Modern, Secure Software Development Services
In today's world, software is a competitive advantage.  Being more efficient, doing more with less, and providing a better experience all start with great software and technology.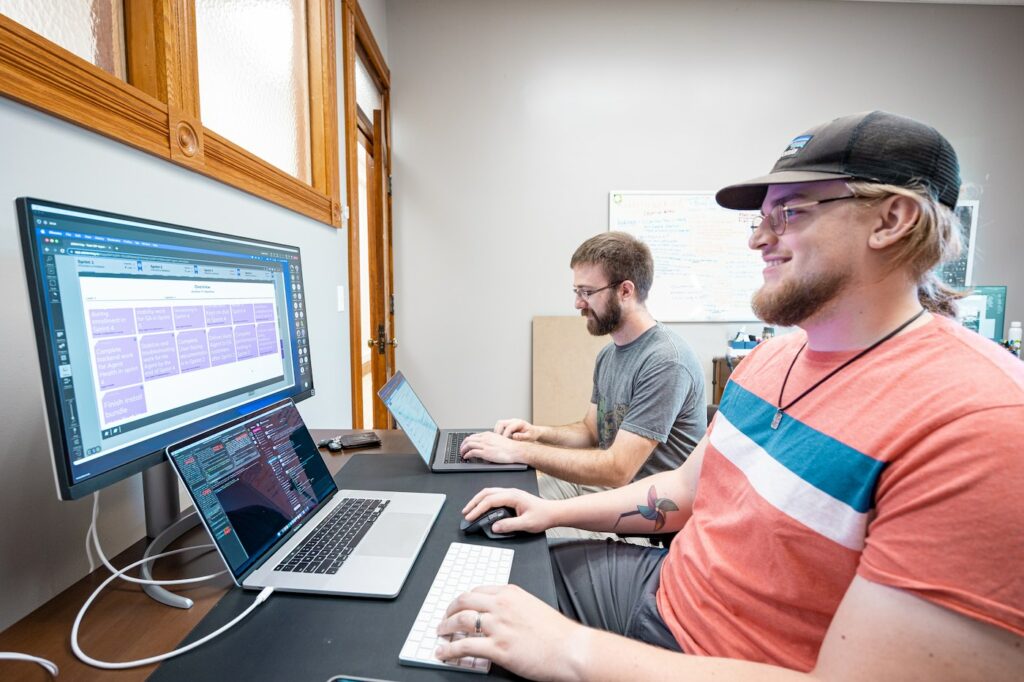 We build custom applications that engage users and reach businesses goals. As a full-stack development team, we choose the right code for your project. Our applications can be written from the ground up or built to enhance existing products. 
Product discovery and design are integral parts of creating a successful software product. Our talented team of designers and researchers are passionate about helping our clients create beautiful, usable products that are tailored to the needs of their users.
We offer UX research services to help our clients identify user needs and insights that can inform product design decisions. We also provide UI design services, including Figma mockups, high–fidelity designs, and more, to ensure that your software product is easy to use and visually striking.
As technology evolves at an unprecedented pace, embracing AI and Machine Learning is no longer a luxury but a necessity for businesses seeking a competitive edge.

Our developers can help you achieve your software goals by supplementing your team with highly skilled and experienced software professionals.
Using our developers will allow you to scale your team flexibly, bring in specialized expertise, and fill gaps in capacity – all while maintaining control and transparency throughout the process.

See how the Creative Mines dev team connected OptionsLive to the Chicago Merchantile Exchange and built a modern, interactive web app on the front end.
Our Software Development Process
We start by learning about your company and the problems you aim to solve by asking questions and brainstorming with your team. Then, we create a plan to get your project where it needs to be.
We apply lean methodology to software and business processes. The first step in continuous improvement is identifying and addressing areas of inefficiency. By concentrating only on aspects that bring value to your company, waste is eliminated and processes are streamlined. 
Through quick, iterative releases, our highly-tuned process increases visibility to stakeholders and decreases the time it takes to deliver high-quality products. Consider us your software partner.